In case you don't follow me on the more immediate forms of social media, the wee baby Seamus arrived healthy and happy (or as happy as you can be after being squeezed through a tiny opening for 4 1/2 hours) on July 11, when she officially became Amelia Rose.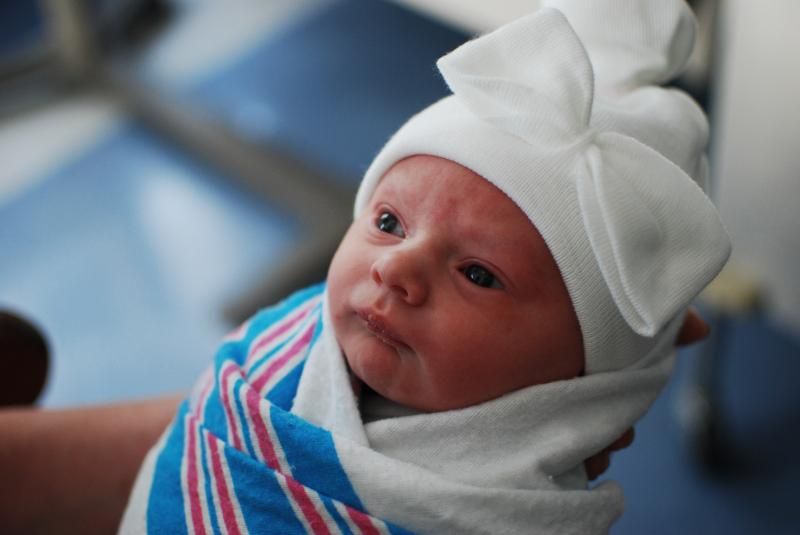 She weighed a very wee 6 lb, 12.7 oz and, obviously, was (and is) the most beautiful fucking thing I've ever seen in my life.
I've said before that I'm not a big fan of multi-part birth stories especially when the birth was largely unremarkable, so you won't find one of those here. I would have to get very poetic to drag mine out longer than a paragraph or two. Since people seem to be interested in details, though, here's a quick rundown:
I was induced on Wednesday with some cervical medication to ripen my cervix (I know, weirdest phrase ever). Though my bag of waters was "bulging" (what?) and the baby was pretty far down, my cervix just did not play ball. I was getting checked every few hours (and getting pretty discouraged) and spent my time obsessing over the fetal heart monitor readings and monitoring my contractions. At about 10:30 pm on Thursday my water broke and contractions started in earnest and shocker they totally sucked. I dealt with them for awhile until I was far enough along in dilation to get some IV meds and then my epidural. The epidural was magical, but by the time I was 9 cm and ready to push--at around 6:00am on Friday--it was keeping me from feeling contractions in my belly but not in my actual birth canal. I felt all of those.

I pushed for around 4 1/2 hours with the help of some pitocin, as I wasn't having too many contractions on my own and we would've been there all day. That 4 1/2 hours went by quickly but very painfully. I cried a lot. My doctor was great and when I asked if we were almost done (about 13 times) she'd just say, "we have more work to do." She told me I have a robust pelvic floor so...you know. She also performed a lot of stretching while I pushed which also hurt like crazy. To help that process along she periodically poured olive oil on my lady bits which made me feel a little like Thanksgiving dinner.


Anyway pushing was by far the hardest thing I've ever had to do in my life. I was focused and physically determined during those contractions in a way that I've never experienced. I even felt myself sort of leave my body a few times...something that's never happened to me before. As painful and physically demanding as it was, though, it was also a pretty amazing process. I remember when they took Amelia out of me and placed her on my chest I thought, "oh, that's why I went through all of that."

Since we came home we've been laying low, healing, adjusting to life as parents and learning how to breastfeed which has been mostly uneventful. I wish I could say the worry has stopped but it's mostly just morphed into other things--is her latch good? Is she breathing? Is swaddling safe? Why do my nipples hurt all the time?
But at the risk of sounding cliche, it really is all worth it just to look at her face and her toes and her belly and her ears and know that we made that together. And watching Rob become a dad has been such a beautiful, emotional experience in ways I never even conceived of (haha, pun intended). I think his support and love are the main thing that's keeping me sane (or at least close) through the sleep deprivation and the worry.

I just realized I didn't respond to your comments on my last post so I want to say thank you for all of our kind words and for thinking of us. We're really excited about this whole new person in our lives and for having our lives completely blown apart in the best way possible.