Hi all!
Jeezy creezy. April is in like two days.
I have never looked forward to spring as much as I am this year. I don't usually leave my house much in winter anyway, but given Amelia's needs and this year's crazy amounts of snow we've become even more isolated. Leaving the house even for a quick trip becomes a huge production and as a result we usually just find excuses to hide inside.
But I can't wait for the sun to come out, for the ground to dry up and to let Amelia crawl around outside and swim and explore. She was a bit of a lump last summer and we didn't get to enjoy it with her, so I think this year is going to be a lot of fun.
While we wait for spring...nothing is really happening. People keep asking how we're doing and what we're doing and honestly, our days are about 97% baby. This basically means picking her up, putting her down, keeping her from dive-bombing onto the floor, laughing with her, holding her when she cries, dancing her to sleep for naps, nursing her, and shoving yogurt puffs into her hands to perfect her pincer grasp. Rob's been back at work for about a week so this all falls to me from 6am-6pm, Monday-Thursday. To be honest, it can be really tedious. I am incredibly grateful that I am able to stay home with her during these formative months, but the days drag sometimes.
All that said, the time we spend with her is
so much more fun
now than it was during months 1-3. She's turned into this bubbly, smiley, mischievous little demon and it's a blast watching her grow and change. The funny thing is that as sunny as she is with us, she is
very
withdrawn and cautious with new people. It makes me laugh because she's a lot like Rob in this way. If you aren't mom or dad, she makes you work for her smiles and comfort with you. I wonder if that'll endure as she gets older.
Amelia has started falling asleep easily at night which has left us with free time at night, a welcome change since the days when she would only cosleep.
She now hates cosleeping, for the record. Babies, man.
Anyway I decided that I needed something to do when Amelia went to bed. I was spending the few hours before we went to bed siting on the internet, but for some reason it just made me feel frayed and antsy. I wanted to find something that would take my attention but that wouldn't stress me out.
I looked around online and decided to buy some grown-up coloring books and colored pencils. So far it's worked out really well. I get to feel artistic without trying and failing to draw and hating myself. I'm working on this
coloring book
now and it is
so much goddamn fun
. Yes, I am seven.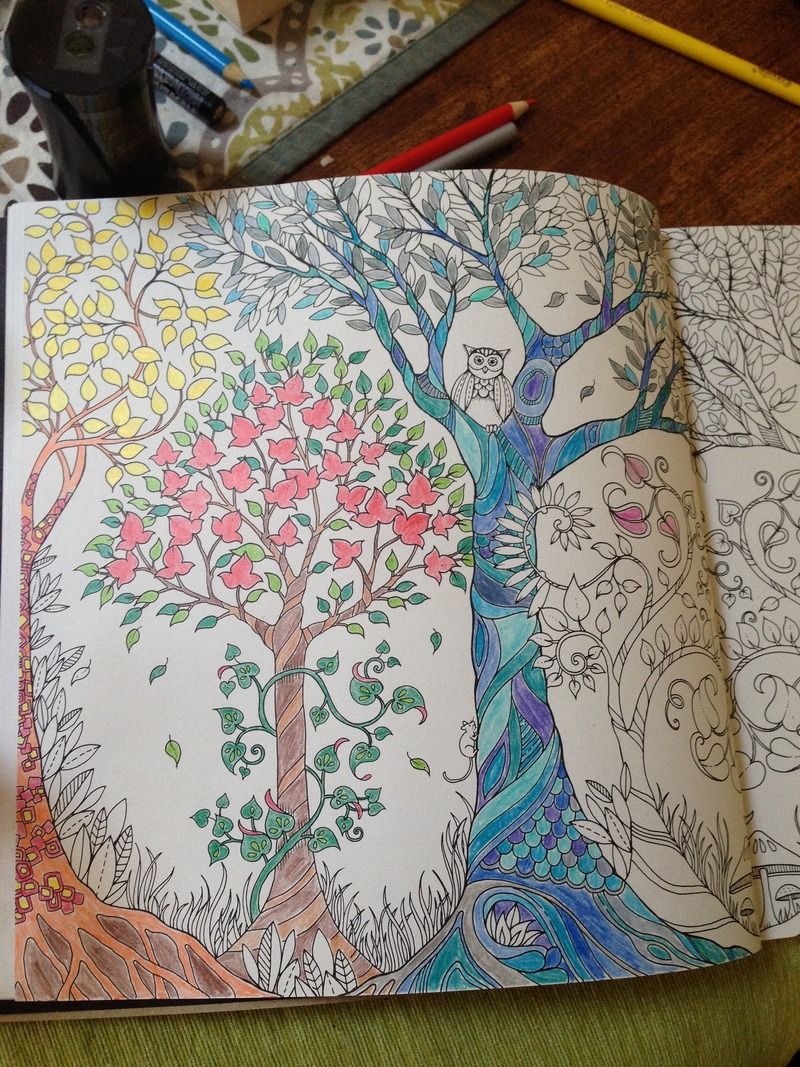 Personally, outside of all things baby, I'm having kind of a tough time lately. I've been spending a significant amount of time fixating on the things I hate about myself, namely my tendencies toward jealousy, defensiveness and passive-aggressiveness. I'm trying to work through it and to forgive myself for sucking sometimes, but it's hard. I find myself wanting to retreat more and more and to avoid people, even those closest to me. I think it's just a temporary state so I'm just kind of dealing with it at this point. Depression, a nasty mistress indeed.
Oh! Here's something exciting. I wrote a post that was accepted and posted by Scary Mommy about unexpected benefits of having a colicky baby.
You can find it here
. If you found my blog from Scary Mommy, hi!