With the arrival of fall came some greater mobility for us. Amelia is now 3 months, can (mostly) hold her head up and is (somewhat) less cranky. With breastfeeding it's still a bit of a crapshoot, since she needs to eat every ~2 hours, but we've been getting more adventurous even if it makes us a little uncomfortable.
Two weekends ago Rob's sister Molly came to visit with her boyfriend, Jason. She hadn't met Amelia yet so that was nice. The benefit of having people come to stay is that you actually feel obligated to get out and see shit rather than putzing around all weekend, which is more or less what I've done since Amelia was born.
We took them to our favorite bookstore, walked around town, and then went to the local nursery to buy some pumpkins because, you know, fall. We were running up against her 8th lunchtime so we knew we were dancing with the devil, but we decided to take a chance anyway. I propped her up against some pumpkins for the obligatory photos--with my phone since I'd forgotten my real camera, a common occurrence nowadays--but really it was more of a reminder of how fun fall
will be
in a year or two when she's old enough to actually appreciate going out. So it was pretty awesome to start these traditions even if Amelia can't really enjoy them yet, I suppose.
No one really tells you (or at least no one told me) about how the first few months (year?) are mostly just...management. With a lot of heart-bursting smiles.
We are also enjoying the increased freedom of a baby who sleeps through the night! We aren't cocky enough to assume that it's a thing yet, but we're enjoying it while it lasts. I was so worried about jinxing it I refused to say "she's sleeping through the night" even though she started doing it around 5 or 6 weeks. We are also not cocky enough to assume that her sleeping abilities are a result of anything we've done--from my own experience and the secondhand experience of those around me, it seems pretty clear that when it comes to sleeping habits you get what you get. I'm crossing my fingers that the current schedule keeps up because when it comes to sleep--specifically not getting it--I can be a bit of a bear.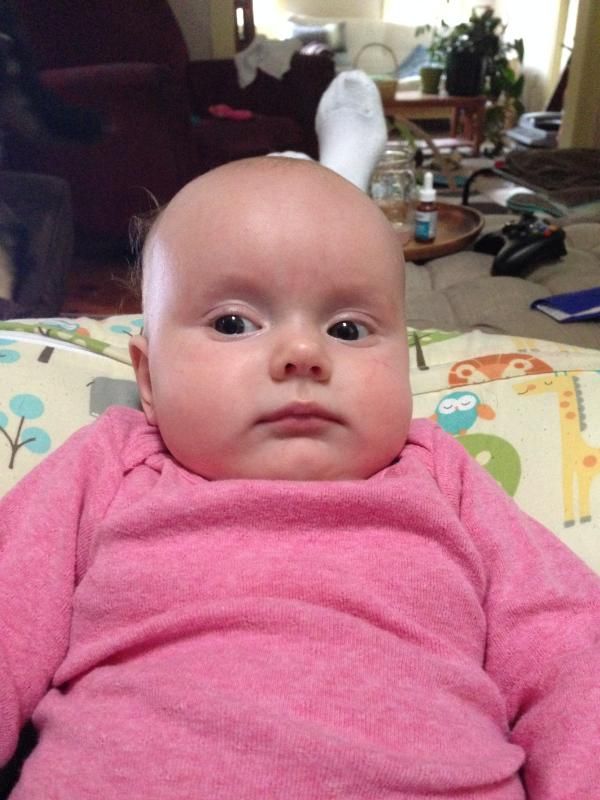 I've been meaning to get outside and take photos of the foliage, but I only managed to do it with my phone. At some point I'll get them off my phone, but as I write this my phone is plugged in in a sleepy baby's room so there's no way in hell I'm getting it.
So there's what's going on in our tiny world. I hope you guys are having a wonderful October so far.